Labels: Thatta Kedona
posted by Omar M. Ali @ 9:33 AM, , links to this post


Thatta Kedona, in addition to producing dolls, toys and other cultural handicrafts has been a
center of leaning
since its inception over a decade ago. Students from different
universities
have been visiting Thatta Ghulaka Dheroka for research, orientation and or for sightseeing.
Read more »
Labels: Appropriate Technology, Students, Thatta Kedona, TTTC, WAC
posted by Omar M. Ali @ 6:23 PM, , links to this post


Dr. Norbert Pintsch and Ghayyoor Obaid

A pre-condition for development of future-oriented housing concepts is the capability to be open and to question what is currently available.


Introduction

This long-term project of the IPC has its roots in the beginning of the 60's of the last century, which was characterized by continuously improving technological possibilities and enormous changes in the psychological and social behavior. These refer apart from raising of children, family life and way of cooking, practical methods of production and problems of intimate areas (discontinuation of shower and WC-paper) and clothing (different forms of fashion) also to furnishings and fixtures, which follow different compulsions. Similarly, the designs are more function oriented and therefore differ totally from the traditionally known and usual forms of design.

Read more »
Labels: Real Estate
posted by Omar M. Ali @ 9:34 AM, , links to this post


Norbert R.O. Pintsch
What has technology to do with culture? a question asked by many professional technology fans. A more exact consideration will however reveal, that culture is the larger dimension and technology is just a part of it. In different eras, some areas have been more influencial and in others less. This way of considering things in itself testifies to a technical way of looking at things. Technical way of thinking is characterized by representation in a manner, the roots of which are to be found in mathematical calculations. There, where abstract thought cannot be explained due to missing power of imagination, we make use of drawings in order to achieve clarity in understanding. It probably never happens that a development process runs as a straight line, rather it is more like a chaotic structure in which now and then a certain regularity becomes visible, which is lost once again after a certain period of time to once again appear as a logical pattern at a later time (
see illustration below
).
Read more »
Labels: Culture, Dr. Norbert Pintsch, Technology
posted by Omar M. Ali @ 8:00 AM, , links to this post


Special Guests Mr and Mrs Froehlich from Germany
Labels: Volunteers
posted by Omar M. Ali @ 9:54 AM, , links to this post


Labels: Dolls of the World
posted by Omar M. Ali @ 9:19 AM, , links to this post


Volunteers are doing wonderful job passing skills to those who need it. It is like "repaying what I have been bestowed upon" said one of the volunteers who visited
Thatta Ghulamka Dheroka
.
Monika Kuppler (on the left in top image) has been passing along this the best way. She is very energetic and keen – working hard with local girls and women in Women's Art Center
Monika. Monika
is here for the fourth time. She conducts pottery workshop with groups of women and starts every time where she had left the previous time. That has resulted in stream of new products and enhanced skills.
What is more, once she had brought her daughter
Sophie Kuppler
- another very bright student and volunteer who conducted English language classes). She has also conducted another workshop with paper.
Labels: Volunteers
posted by Omar M. Ali @ 8:00 AM, , links to this post


Labels: Development, Volunteers, Women
posted by Omar M. Ali @ 12:00 AM, , links to this post


Labels: Environment
posted by Omar M. Ali @ 2:10 PM, , links to this post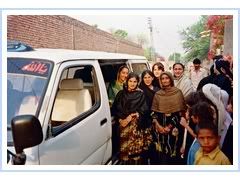 Thatta Kedona Annual Summer School is being held for two weeks in Bhurban (1-14 May 2005) and one week in Khanspur (15-22 May 2005). Marleen Hamid, Volunteer Teacher from Germany is teaching spoken English (plus basic arithmetic and calculations) to qualify 5 TGD women from WAC. This is one of the annual features for the workers of WAC. Village women are successfully working and learning in WAC since 1993 where dedicated volunteers come and teach. This year following women are attending the summer camp:

Read more »
Labels: Education
posted by Omar M. Ali @ 12:00 AM, , links to this post