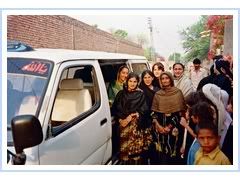 Thatta Kedona Annual Summer School is being held for two weeks in Bhurban (1-14 May 2005) and one week in Khanspur (15-22 May 2005). Marleen Hamid, Volunteer Teacher from Germany is teaching spoken English (plus basic arithmetic and calculations) to qualify 5 TGD women from WAC. This is one of the annual features for the workers of WAC. Village women are successfully working and learning in WAC since 1993 where dedicated volunteers come and teach. This year following women are attending the summer camp:

Read more »
Labels: Education
posted by Omar M. Ali @ 12:00 AM, , links to this post


The amounts allocated in the federal budget for development aid say it all, namely that too much is being done and too little at the same time. How can that be, -only one thing can be true? And still, both are correct because for one it is too much and for the other too little.

Now, how does it look for the actively engaged people in development aid? They are mostly not thoroughly acquainted with the problems of the developing countries because they constantly make comparisons between their home and the project country and therefore very quickly develop a certain way of thinking, namely to develop themselves so much in the normally three years of participation in an overseas project, that they can build a small house of their own at home.

Read more »
Labels: Rural Development
posted by Omar M. Ali @ 8:30 AM, , links to this post


Arab Boy


Monday, February 24, 2014
posted by Omar M. Ali @ 8:05 AM, , links to this post


Dr. Senta Siller
– mother of dolls and moving spirit soul of Thatta Kedona – did not come to the village this year. Friends of the project and readers here were wondering where is Dr. Senta Siller?
Dr. Senta Siller is doing a lot. She has been winding up Pakistan House Potsdam that was founded by her in 2001. She Pakistan House is closing down and
Gross Behnitz
- another international project is starting.
Along with winding up of Pakistan House, Dr. Senta Siller has been training a group of women in handicrafts and making clothing for Gross Behnitz project. Dr. Senta Siller will start the next training course from Gross Behnitz. During this period, she with other volunteers has also managed 30 bazaar days in ethnological museums in Germany, Austria and Switzerland.
Stay tuned, more will come on Pakistan House and Gross Behnitz project?
Labels: Dr. Senta Siller, Gross Behnitz
posted by Omar M. Ali @ 9:35 AM, , links to this post


Friends of Thatta Kedona already know about our beautiful tradition of "one child one tree" that is practiced in Toys Village since last decade. A-e-F-e-A presents one fruit tree on the birth of a baby and one flower tree to a newly married couple. Results: almost every household in Toys Village has a fruit and flower trees in their yards. And it looks so good. Here are some of the impressions from tree distribution ceremony in BHU.
Labels: BHU, One Baby One Tree
posted by Omar M. Ali @ 9:34 AM, , links to this post


Listen Arjum Wajid from (BBC World Service) Interview;
Download
.
Labels: Dolls, Dolls of the World, Dr. Senta Siller, Thatta Kedona
posted by Omar M. Ali @ 9:31 AM, , links to this post


Young Aslam displays his art work (bedspreads sheets, table cloth, wall hangings, a melee of colour and an extravaganza of design) in Thatta Kedona show room at Lahore under the approving gaze of Dr. Senta Siller. Aslam needs no coaxing to display the finished pieces. As quickly as he spreads his art pieces, he rattles off the names. Persian 1, Persian 11, Masjid Wazir Khan, the palm tree, peacock palm, dancing parrots, the elephant tram and six peacocks, also naming the prestigious places where these designs are in use at the moment.

Aslam represents fourth generation of the family carrying forward the art of block printing that is at the verge on extinction. Block printing represents an age when mastery over art was the struggle of a life time of hard labour and Aslam does not seem to forget this philosophy even thought he has ambitious to innovate and diversify the art of his forefathers in a big way.

Read more »
Labels: Block Printing
posted by Omar M. Ali @ 9:20 AM, , links to this post